Arte Africana www.africarte.it
African Art - Art Africain - Africart - Arte Africana - Tribal Art (Sito ottimizzato 1024 x 768)

news
Dal 20 Maggio al 20 Giugno 2006
GALERIE WALU
a Zurigo (Svizzera)
mostra di arte africana:
" La Galleria Walu sotto il segno dei gemelli ",
Auguri
Marcello Lattari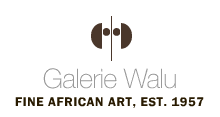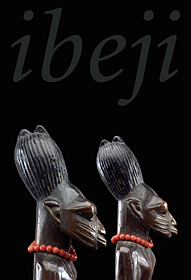 GALERIE WALU UNDER THE SIGN OF THE TWINS
May 20 – June 20, 2006

Discover the fascinating world of the Ibeji-Twins.
We cordially invite you to visit our worth seeing exhibition on this captivating subject.

From 20 May until 20 June 2006 (when the sun passes through Gemini, the zodiacal sign of the Twins), the Galerie Walu is offering those whose curiosity has been aroused the opportunity to gain an insight into the fascinating world of the Yoruba cult of the ibeji. The selling exhibition at the Galerie Walu
features an impressive selection of such fine old ibeji figures, captivating both in their aesthetic quality and expressive power. www.walu.ch




GALERIE WALU IM ZEICHEN DER ZWILLINGE
20. Mai - 20. Juni 2006

Entdecken Sie die faszinierende Welt der Ibeji-Zwillinge.
Wir laden Sie herzlich zum Besuch unserer sehenswerten Ausstellung
über dieses spannende Thema ein.

Neugierigen bietet sich vom 20. Mai bis zum 20. Juni 2006 (Sternzeichen Zwillinge) in der Galerie Walu die Gelegenheit, einen Einblick in die interessante Welt des Yoruba Ibeji-Kultes zu erhalten.
Die Verkaufsausstellung in der Galerie Walu präsentiert eine beeindruckende Auswahl solcher Ibeji-Figuren aus alten Beständen, welche durch ihre ästhetische Qualität und Ausdruckskraft bestechen.
www.walu.ch





LA GALERIE WALU SOUS LE SIGNE DES GÉMEAUX
20. Mai - 20. Juin 2006

Venez découvrir le monde fascinant des jumeaux Ibeji.
Nous avons le plaisir de vous inviter à visiter notre exposition sur ce thème des plus attrayant.

Du 20 mai au 20 juin 2006, sous le signe des Gémeaux, la Galerie Walu offre aux curieux l'occasion de découvrir le monde passionnant du culte Yoruba des ibeji. L'exposition-vente de la Galerie Walu présente un choix impressionnant de statuettes Ibeji de nos anciennes réserves, plus attirantes les unes que les autres par leurs qualités esthétiques et leur expressivité. www.walu.ch

© 2005 Galerie Walu, Zürich | Tel +41-44-280'20'00 | Fax +41-44-280'20'01 info@walu.ch
www.walu.ch | www.shoowa.com | www.artauctions.ch |
www.ibeji.com | www.africard.ch | www.chokwe.net | www.panafrica.ch

---

I diritti, i testi, i nomi, i marchi e i banner riprodotti in questo sito sono di proprietà dei rispettivi titolari.
Le immagini, anche se non coperte da copyright, sono di proprietà degli autori delle opere riprodotte.